Lane United FC suffered a 2-1 loss to Capital FC Atletico (formerly Portland Timbers U23) in the Civic Park home opener Friday night.
A penalty kick and free kick in the first 15 minutes gave the visitors from Salem an early 2-0 advantage, but Lane United created more chances and pressured CFC into turnover after turnover.
The Reds found their breakthrough in the 22nd minute via a beautiful Duncan McGuire cross and finish from Tommy Case.
Heroic stops by Albert Escuin kept the Reds within reach of a result, but the Reds were unable to find an equalizer.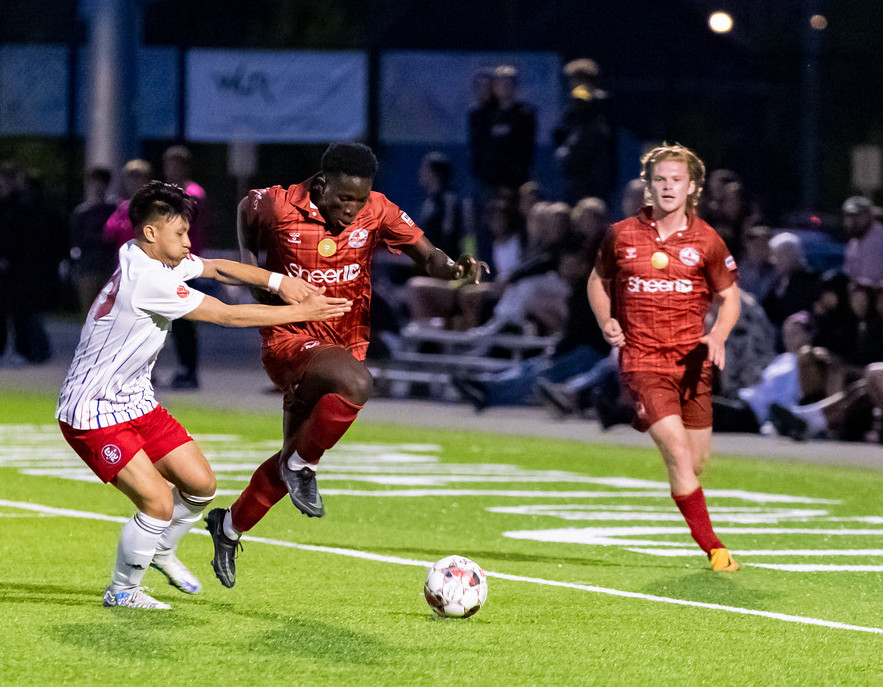 What's Next
The Reds will travel up to Albany to face Oregon Valley Futbol Alliance this Sunday at 2pm PT.
Match Timeline
8' – GOAL (CFCA) A penalty was awarded to Capital FC for a foul inside the box and was converted by CJ Tibbling.
15' – GOAL (CFCA) Capital FC's Nacho Alastuey hit a free kick over the wall and into the net for a 2-0 lead.
23' – GOAL (LUFC) Duncan McGuire lifted a lovely ball over the far post defender, where Tommy Case controlled it and finished through the goalkeeper's legs to draw one back for the Reds.
32' – YELLOW CARD (LUFC) Jordan Jackmon earns a yellow card for a tactical foul.
34' – YELLOW CARD (CFCA) Gabriel Silva is shown a caution for a hard challenge in midfield.
41' – SAVE (CFCA) Duncan McGuire beat CFCA goalkeeper Quinn McCallion to the ball, but his lifted shot fell just wide of the goal.
66' – SAVE (LUFC) Albert Escuin made a diving stop on a hard shot from outside the box.
67' – CHANCE (CFCA) Albert Escuin made a sprawling kick-save off a corner kick.
73' – YELLOW CARD (LUFC) Landon Sloan committed a tactical foul outside the penalty area.
76' – YELLOW CARD (CFCA) Nicholas Denley received a caution for time wasting.
88' – SAVE (CFCA) Habib Binate's right-footed shot forced a diving grab by McCallion.