Playing in the nation-wide US League Two with 120+ teams, Lane United FC has been our community's own U23 soccer team since 2013 and we are finally settled into our new grounds at the brand-new Civic Park. We rely heavily on host families to take in our talented players (from the U.S. or abroad) for this short League Two season. As we enter our TENTH YEAR, our coaching staff is looking for host families from early/mid-May through mid/late-July 2023.
With the addition of a Women's Team to our club, which will play in the USL W League this coming season, we are also looking for host families for our incoming female players.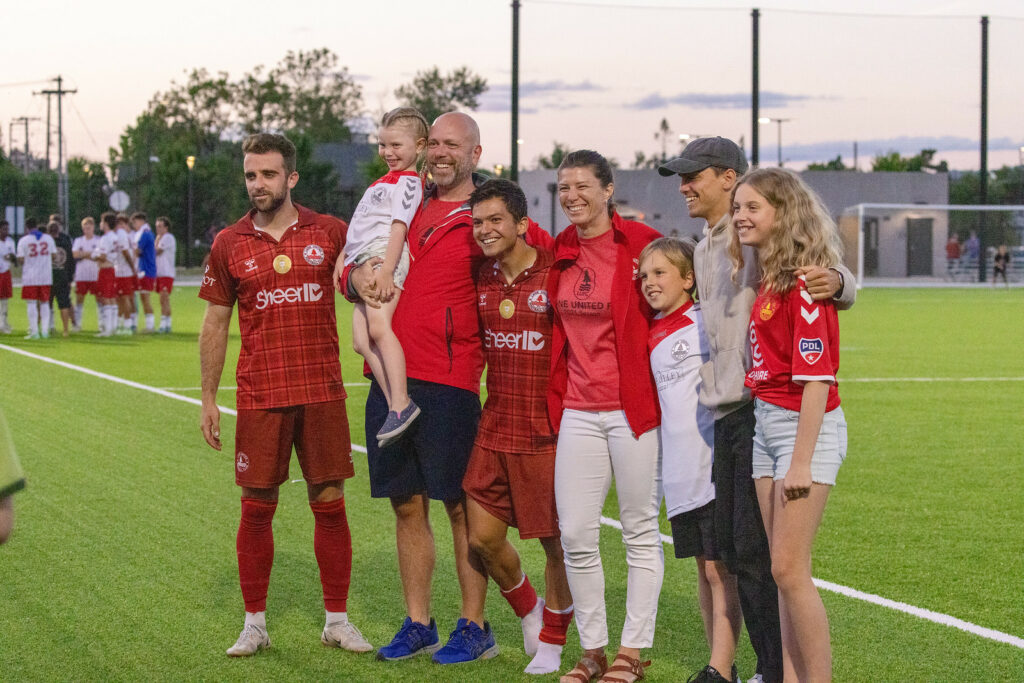 Details
LUFC players arrive in town in mid-May and leave mid-to-late July. Some may arrive and/or leave a bit earlier or later. (note: the women's season will end a bit earlier at the beginning of July)
LUFC will work with your summer schedule plans at your comfort level. If you are to leave for a trip, or have relatives in town, they will find a "fill in" family during that time if you don't want a house sitter.
LUFC players just need a bed! No food needed if you do not have that ability.
LUFC will work to arrange any transportation needs for the player in your home.
LUFC players are instructed by the club to help out and be a helpful team player while in your home.
Perks
Host families get the following perks as thanks!
Four (4) season tickets to ALL home matches for the family.
Four (4) limited edition Lane United FC t-shirts.
Testimonials
"Hosting Lane United Players from Spain was the best thing our family has done! We had one player for three seasons in a row. Isma is like one of our family now. We had another player, Luis last season and hope to have him back this season. My husband and sons and I learned so much about Spanish culture and got to practice our Spanish language. Isma and his friends from the team cooked delicious Spanish meals for us, he helped around the house and watched our dogs for weekends we had to be away. Both Luis and Isma played soccer and video games with our boys, helped them with their Spanish homework and they all call each other 'brothers' now. We also have become life-long friends with some of the other host families. Not only that, but we have several places to stay in Spain, next time we visit. It was a very positive experience and I highly recommend it!"

Bethani Mayberry (parent of Simon SEHS '18 and Oliver SEHS '21)
"Last year I hosted a lovely 21 year-old Australian who instantly became a part of our little family. He arrived at the beginning of May and left at the beginning of July. I fed him breakfast and dinner and he usually ate out with a teammate at lunch. He watched Netflix on his laptop and napped between training sessions, and they travel for games a few days a week. Some of the guys are more independent than mine was, and some live in Portland and go home on the weekends in their own cars. Last year it seemed about half the team was international students – Spain, Norway, France, Australia, England.

If you plan to be gone during the early summer months, I'd think one of these guys would make an excellent free house sitter! Oh, and although I don't have enough rooms in my house to take more than one, I'm happy to let them hang out here and stare at their phones and play video games which is pretty much what they do. Their coach always says you can put them to work around the house doing yard work and such and mine definitely offered, but I didn't really utilize him that way."

Robynne Whitney (parent of Owen – SEHS '22)
Please contact General Manager Perry Hammond via our Contact Page with your interest or questions, and please share this with any of your friends who support Lane United FC or soccer in our community.