After earning their first point of the season in a heartbreaking 1-1 draw against OVF Alliance, Lane United FC will now have a sizeable opportunity to build off their momentum against Oly Town FC, a new team in USL League Two. 
Traveling from Olympia, the Artesians are coming from the Washington Evergreen Premier League after a 5-4-1 record last season. They're 0-3 in their inaugural USL2 season this year, but they managed to pace Capital FC and PDX FC in a pair of one-goal losses.
"It's hard enough to win in this league as it is, and these new guys are probably learning the league a little bit, but they've still been in most of their games," Head Coach John Galas said. "They're competitive, they play good football, and we're gonna have to match that and be better. It just goes to show the quality of this Northwest Division."
The Artesians feature just one current Division I player on their team, Samuel Tessler from Seattle University. The rest of their roster ranges from Division II to community college talent including three players from Pacific Lutheran and two from Saint Martins in Lacey, WA, though they do feature a handful of former Seattle Sounders academy players.
The Artesians have mustered a single goal in their last two games and two goals thus far, both from Gilbert De La Luz. Jason Fairhurst, a midfielder, has two assists on the young season.
LUFC's developing defense could make things tough on the Artesians' offense. After holding OVF Alliance scoreless for the first 93 minutes of play last Sunday, Coach Galas highlighted the defense's impressive performance as a recent positive.
Since the rough 5-1 opening game loss, the Reds' defense has locked down and allowed just two non-self-inflicted goals in their past two matches. Unfortunately, the offense hasn't been able to hit its stride yet.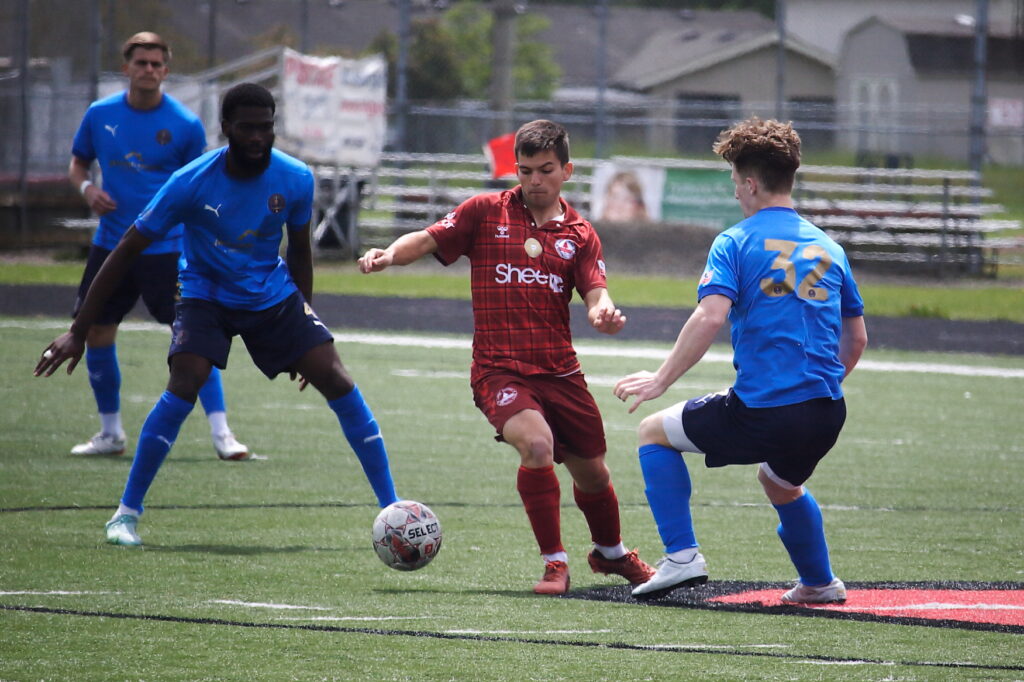 "We've been trying to keep the ball up on the offensive side," said Diego Dutilh, a Chilean central midfielder for the Reds. "Especially against Capital in the first half we did a great job and I think that attacking is one of our strengths. Having our wingers wide and trying to find them in the correct moments and correct times of the game will make us more dangerous."
Despite the last-place opponent, the overall mindset still hasn't changed for LUFC players and personnel. They're confident that if they focus on themselves and keep improving week by week, the results will show for themselves.
Coach Galas highlighted, "It's just 90 minutes of being able to compete in all phases of the game. Every game we've gotten better but I think the mood of this group is 'what's done is done.' They've been really focused this week and we're looking forward to getting our first three points.
"I'm more concerned about us than what I know about (Oly Town FC)," Dutilh added. "We've had a lot of growth in these past few weeks, so I'm more focused on our team than the rest of the league honestly."
The Reds will look to get in the win column against the Artesians Saturday, June 4th. Kick-off is set for 7:30p pm at Civic Park in South Eugene. Tickets to the match are available on the LUFC website and a live stream will be available on our Eleven Sports channel.