After a brilliant defensive display for over 93 minutes, a stoppage time own goal cost Lane United what would have been a well-deserved road win in Albany on Sunday afternoon.
The Reds' first point of the season felt more like a loss given what took place on the pitch at South Albany High School. OVF Alliance seemed intent on stopping the visitors through a non-stop string of fouls while hoofing the ball up field when they won possession.
Lane United, on the other hand, strung together passes through the midfield, switching play from one side to the other, and threatened twice in the opening 20 minutes through Caleb Tammi efforts – a shot from distance that smashed off a defender's face and another left-footed shot that went just high and wide.
OVF's incessant fouling led to several dangerous free kicks for the visitors, who finally broke through when Tammi's low direct kick was saved by OVF goalkeeper Roman Gabriel and Brian Torre pounced on the rebound to head into the back of the net in the 31st minute.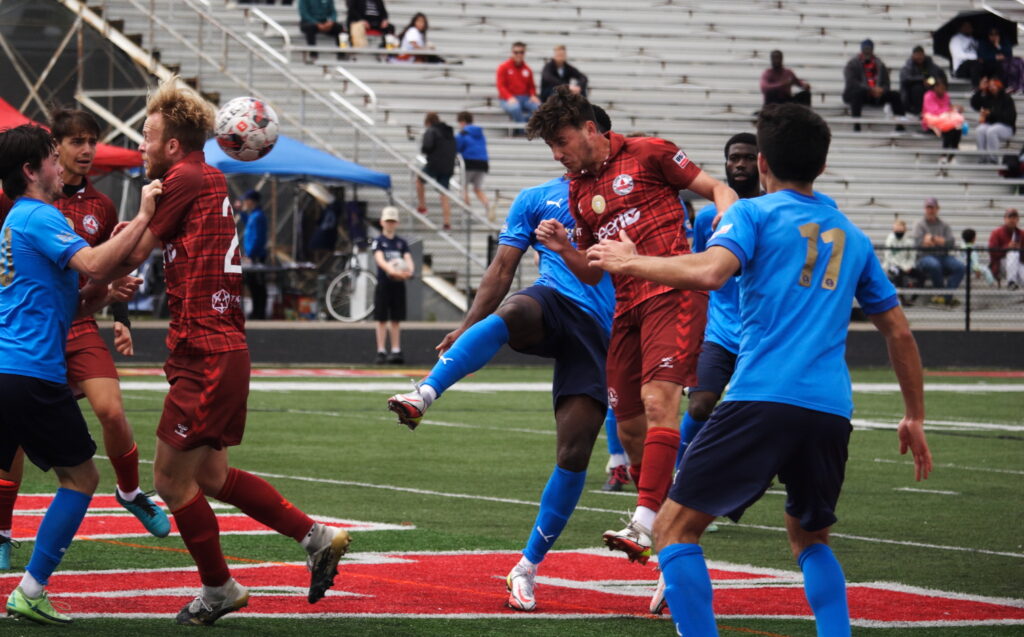 The home side turned up the defensive pressure a bit in the second half, though the match continued to be plagued by constant whistles from the referee, now on both clubs. Lane United's backline, led by a stellar Jordan Jackmon, continued to stymy any attempted OVF attack.
In fact, OVF did not attempt a single shot on goal all game, so it was a cruel twist for Man of the Match winner Jackmon to turn a cross from the right into his own goal with only a minute of stoppage time left to be played. Despite a largely dominant performance, the Reds were forced to settle for a draw.
What's Next
Lane United FC will take on league newcomers Oly Town Artesians next Saturday, June 4th, at Civic Park (7:30p kickoff). Tickets for that match are available here.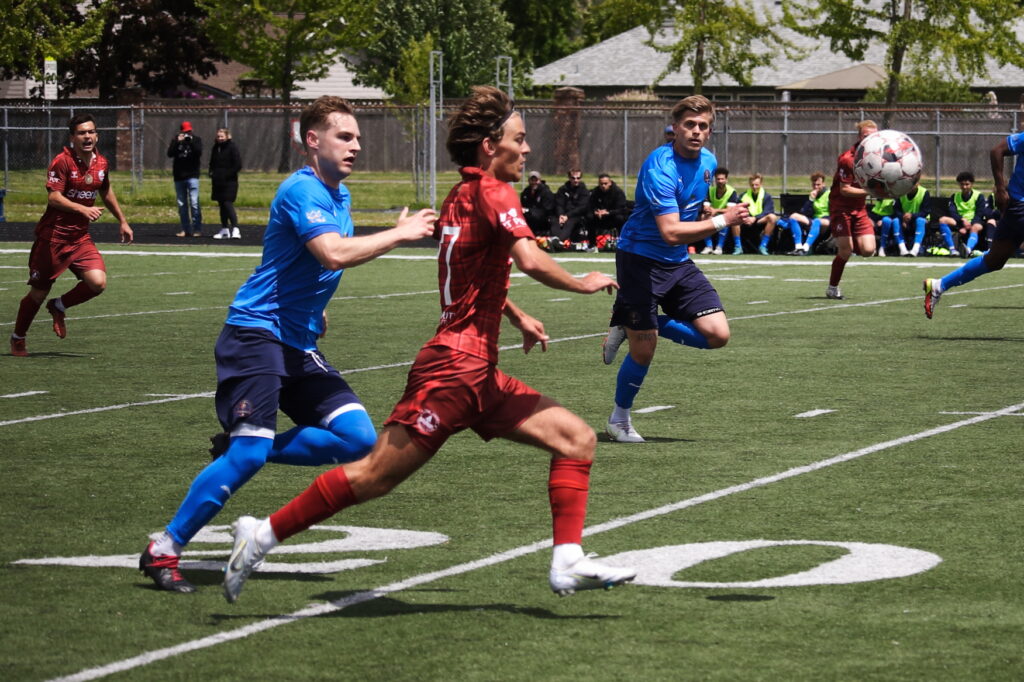 Match Timeline
4' SAVE (OVF) – A Caleb Tammi strike from distance hits a defender's face and bounces away.
17' CHANCE (LUFC) – Caleb Tammi cuts inside from the right and unleashes a left-footed shot that goes just high and wide of the far post.
22' YELLOW CARD (OVF) – Dominique Kossehasse is shown a yellow card for a bad foul.
31' GOAL (LUFC) – Brian Torre heads in the rebound after a Caleb Tammi free kick.
50' YELLOW CARD (LUFC) – Landon Sloan is shown a caution for a push in the back.
52' CHANCE (OVF) – Brendan Herb heads well off target after a cross from Igor Hubenya.
54' CHANCE (LUFC) – After a nice build up, a pass from Diego Dutilh that is flicked on by Duncan McGuire finds, Caleb Tammi, who fires over the bar from 22 yards.
56' YELLOW CARD (LUFC) – Edoardo Merci is cautioned for a sliding foul.
63' CHANCE (LUFC) – Duncan McGuire rips a left-footed shot a foot over the bar from outside the box.
91' SAVE (OVF) – José Carlos González cuts inside and hits a low, left-footed shot that forces a sprawling save from Roman Gabriel.
94' GOAL (OVF) – A cross from the right is turned into the back of the net by LUFC defender Jordan Jackmon.