It was a tale of two halves for Lane United FC Friday night as the Reds split points with Ballard FC despite an early goal from Duncan McGuire.
The last time these two teams met in Seattle, Lane United headed home with a 5-1 loss. This time around, the Reds fought to a 2-2 draw at Civic Park, with the final 30 minutes played in the driving rain.
Ballard's Bailey Letherman scored a shot from distance to square the game in the 60th minute and Tommy Case gave the Reds a 2-1 lead one minute into the three added, but Ballard were allowed one last chance after multiple clearances.
A shot was cleared off the line by LUFC defender Robin Terry with his hand, but the center referee did not see the infraction. Ballard players stormed the official and Letherman received a red card for violent conduct.
The official conversed with his assistants and after several minutes of confusion, Ballard were awarded a penalty and Terry was sent off.
Lane United goalkeeper Albert Escuin saved Declan McGlynn's penalty, but the rebound bounced right back to McGlynn, who slotted it home for one of the latest stoppage time equalizers ever. Escuin has now saved six out of seven penalties faced in his entire USL League Two career.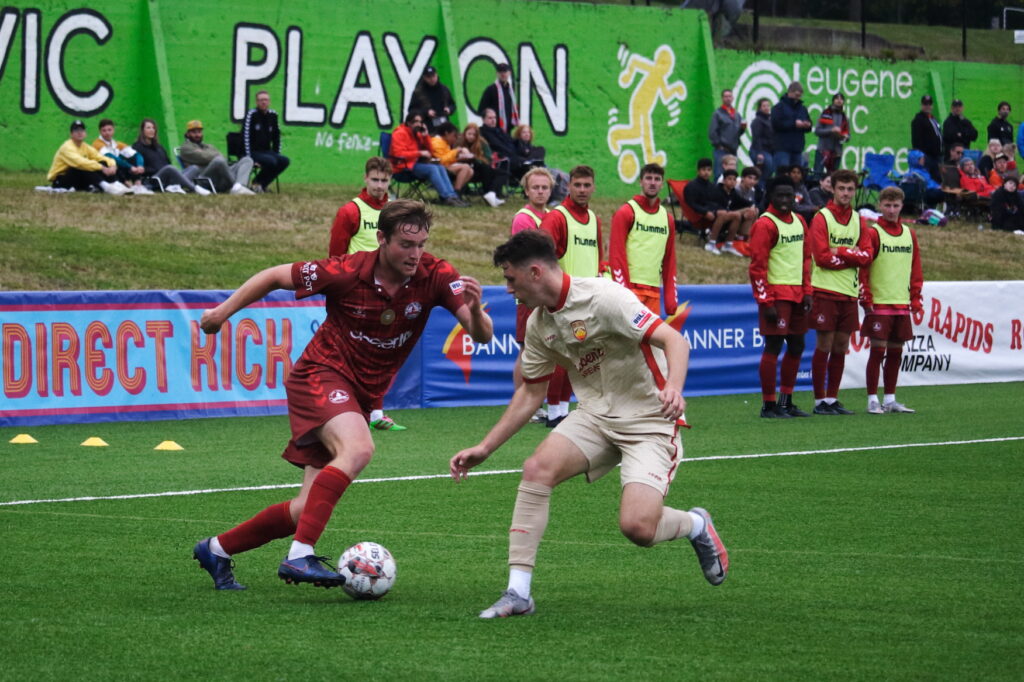 McGuire's third-minute header (and third of the season) gave the Reds an early lead, and they nearly doubled it in the first half.
The home side stayed active and in control after the early goal. Michael Hatcher's shot from close range was deflected wide, while a header from Edoardo Merci was saved by the keeper.
Ballard came out on the front foot in the second half, though, and found their equalizer with a 30-yard missile by Letherman.
As the rain descended around the 60th minute, the match only increased in intensity. Both teams had plenty of chances and cautions, but it was Case who found the back of the net in stoppage time via a deflected shot from outside the box.
The goal was euphoric for home players and fans alike, but the match continued. The Reds cleared chance after chance, but Ballard were given one last chance to usher in some chaos.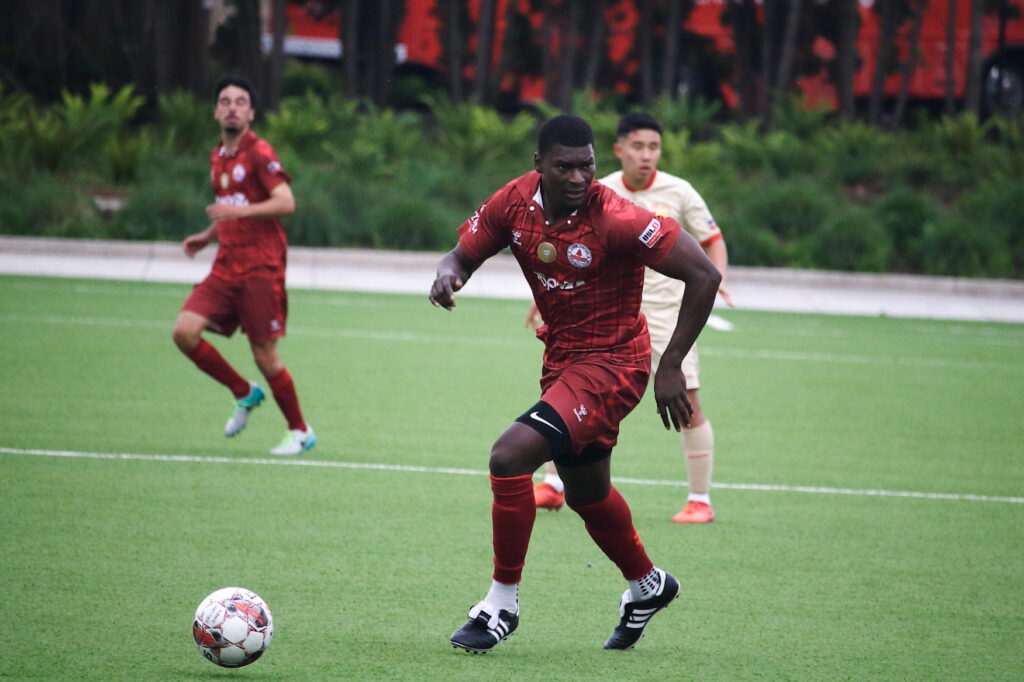 What's Next
The Reds host PDX FC on Thursday, June 23rd at 7 p.m. in the second of a three-game homestand at Civic Park. It will be the first meeting of the season between the two sides.
Match Timeline
3' GOAL (LUFC) – Duncan McGuire heads one past Kasim, assisted by Scott Gustafson.
10' CHANCE (LUFC) – Michael Hatcher's shot off a corner kick is deflected into the hands of Kasim.
20' CHANCE (BFC) – Kevin Galiano heads a shot wide of the post.
30' CHANCE (BFC) – Ian Mejia misses a shot.
44' YELLOW CARD (BFC) – Taketo Onodera receives a yellow for unsporting behavior.
46' CHANCE (LUFC) – Merci steals a pass in the attacking half and dribbles into a shot, which is deflected out for a corner kick.
51' CHANCE (LUFC) – McGuire flicks a long throw-in toward goal, but it was saved by Kasim.
51' YELLOW CARD (LUFC) – Scott Gustafson receives a caution for a tactical foul.
54' CHANCE (LUFC) – Jose Carlos Gonzalez misses a shot from distance after some nice build-up play by the Reds.
56' CHANCE (BFC) – A shot from distance sails over the bar.
60' GOAL (BFC) – Bailey Letherman collects a clearance and laces a shot from distance into the near corner to make it 1-1.
63' CHANCE (LUFC) – McGuire bends a free kick around the wall, but Kasim has his far post covered.
72' CHANCE (BFC) – Terry clears a ball wide of the goal with his head.
76' CHANCE (BFC) – A volleyed shot from distance is saved comfortably by Escuin.
79' YELLOW CARD (LUFC) – Landon Sloan receives a caution for a reckless challenge.
82' YELLOW CARD (BFC) – Declan McGlynn receives a caution for dissent.
89' YELLOW CARD (LUFC) – Modou Sowe receives a caution for a hard challenge.
90+1' YELLOW CARD (LUFC) – José Carlos González receives a caution for illegally entering the field of play.
90+2' GOAL (LUFC) – Ryan Brakke knees the ball to Case, who rips a shot from distance off of a defender's back and into the goal to make it 2-1.
90+3' CHANCE (BFC) – A hard shot is blocked off the line by Terry and the official is swarmed by Ballard players.
90+3' RED CARD (BFC) – Letherman is ejected for pushing and stepping on the center referee.
90+7' RED CARD (LUFC) – Terry is ejected after the officials confer with each other.
90+7' PENALTY (BFC) – Ballard are awarded a penalty for Terry's denial of a goal scoring opportunity inside the penalty area.
90+8' – PENALTY SAVE (LUFC) – Escuin makes his sixth career USL2 penalty save out of seven tries.
90+8' – GOAL (BFC) – McGlynn, the penalty taker, gets another shot off the save and scores it.
90+9' – FULL TIME