The Lane United Men's Team tied Oly Town 2-2 in an electrifying game Sunday afternoon in Olympia, Washington.
A strong first half and a clutch goal right before the final whistle prevented the Reds from going home empty-handed.
On a narrow pitch and in windy conditions at South Sound Stadium, the Reds came out on the front foot and controlled possession in the opening 45 minutes. Nevertheless, it was Oly Town FC that would enjoy the first clear chance when Trevor Thompson was played through on the right side, but his shot went wide of the near post.
Lane United capitalized on their possession as Wade Muttitt struck first in the 23rd minute. A penalty drawn by Deryk Jones Jr. on the left side of the box after a nice run down the flank gave the Reds a golden opportunity and Muttitt cashed in. After his penalty was initially blocked by goalkeeper Charlie Lanphier, the Englishman pounced on the rebound and fired the ball into the open net. Soon after, Oly Town took advantage of their size as Keegan Yorke scored his first goal of the season with a header off a free kick, tying the game 1-1 going into halftime.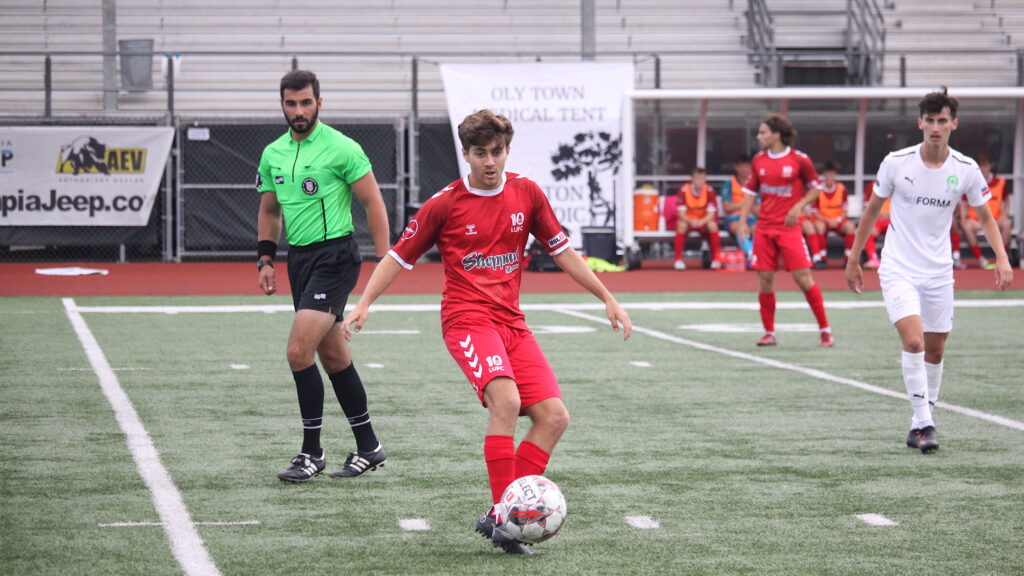 After a mostly quiet start to the second half, both teams started to play with a sense of urgency. The Artesians started to see more of the ball and create chances, but some last-ditch defending and solid work by goalkeeper Brandon Limes kept the Reds in the game. A spectacular save by Limes in the 77th minute saw him dive low and to his right to keep out a Chris Peretti shot that seemed destined for the back of the net.
Heading into extra time, a draw seemed all but certain. However, Oly Town's Dante Perez – their backup goalkeeper who only came on as a striker when Jason Fairhurst suffered a head injury and they were out of subs – side-footed a low cross from the left wing from Peretti inside the far post. 
The Reds remained undeterred, continuing to move the ball and generate chances. Substitute Owen Nelson saved the day, tying the game with about 15 seconds left for his first goal as a Red. Left back Luke Waters switched the field beautifully to captain Tommy Case on the right. Case cut inside and found Nelson drifting across the area, and the striker took a touch before wrapping a low, right-footed shot around the outstretched arms of Lanphier to earn the visitors a point.
The Reds return to Civic Park on Friday, June 16th, when they take on undefeated Ballard FC at 7 pm.
(Main photo credit: NW Sports Pics/Peter Bellerby)