Before we turn the calendar year, and with college and high school seasons having come to an end, let's take a look back at how the players from our 2022 USL League Two season fared with their respective schools:
Habib Binate, Forward, Christian Brothers University
The pacey winger played in 19 games with 5 starts for Christian Brothers University, scoring 4 goals and assisting on another. He also made the winning penalty kick in a shootout victory over West Florida in the Gulf South Conference Championship game, helping clinch CBU a place in the DII NCAA Tournament. Binate wraps up his stellar CBU career with 14 goals and 2 helpers.
Ryan Brakke, Forward, Creighton University
Brakke played in three games off the bench for Creighton this season and notched his first career collegiate goal in a win over Omaha. Creighton would go on to win the Big East Tournament and make it all the way to the NCAA Tournament semifinal.
Kieran Brown, Goalkeeper, Fort Hays State University
The Australian netminder started all 19 games for Fort Hays, earning 6 clean sheets. Brown had a 1.05 GAA and an outstanding .824 Save Percentage, setting the school record for saves in a season with 89, while being named Honorable Mention All-MIAA. For his career, he set school records for saves (212), save percentage (.812), GAA (.92, wins (32), and shutouts (19). To top it off, he was named conference Goalkeeper of the Week three times in 2022 and earned the GAC/MIAA Distinguished Scholar Award.
Tommy Case, Midfielder, UMass
The longtime LUFC midfielder featured in 17 matches for UMass with 4 starts. He tallied one assist while helping the Minutemen reach the Atlantic 10 Tournament.
Reilly Combs, Defender, Oregon Institute of Technology
Combs, who joined Lane United late in the season, was a captain at OIT for the 2022 season and played in 14 games, 12 of them starts. The center back notched 2 goals while helping lead the Owls to the Cascade Collegiate Conference finals and an at-large bid to the NAIA National Tournament.
Peter Conrad, Midfielder, Corvallis HS
The midfielder completed his Junior season at Corvallis HS with a great year, earning Second Team All-League Honors while tallying 5 goals and 4 assists. He was one of the team captains and also got it done in the classroom, being named to the Academic All-State Team.
Ethan Doud, Midfielder, Fort Hays State University
Doud started 19 games for the Panthers and tallied one goal and two assists. He earned so many accolades during his Junior season at Fort Hays that it would be easier to simply list them one by one:
GAC/MIAA Midfielder of the Year
All-GAC-MIAA First Team
GAC/MIAA All-Tournament Team
D2CCA All-Central Region First team
United Soccer Coaches All-Central Region First Team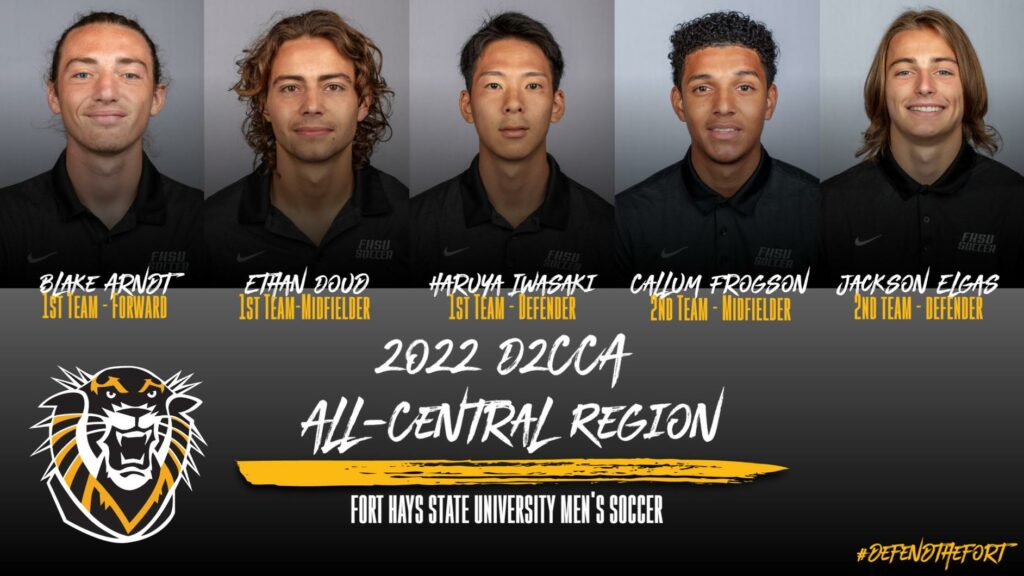 Diego Dutilh, Midfielder, Creighton University
The Chilean playmaker appeared in 15 matches for Creighton off the bench, playing a total of 296 minutes for the Big East Champions. Dutilh dished out 2 assists and featured in both the Big East semifinal and final and three of the team's NCAA Tournament games.
Albert Escuin, Goalkeeper, Maryville University
The Spanish netminder, who has starred for Lane United for 3 years, put a bow on his collegiate career with a stellar season at DII Maryville University. In addition to posting 10 clean sheets in 19 starts and leading the Great Lakes Valley Conference with an 0.53 GAA, Albert racked up the personal accolades:
GLVC All-Conference First Team
United Soccer Coaches All-Midwest Region Second Team
United Soccer Coaches Scholar All-American Second Team
D2CCA All-Midwest Region Second Team
CSC Academic All-District Team
GLVC Defensive Player of the Week (10/4/22)
United Soccer Coaches College Player of the Week (10/5/22)
Escuin led the Saints to the GLVC title, earning shutouts in both the semifinal and championship matches. He then earned two more clean sheets in Maryville wins in the first two rounds of the NCAA Tournament before falling in the Quarterfinals.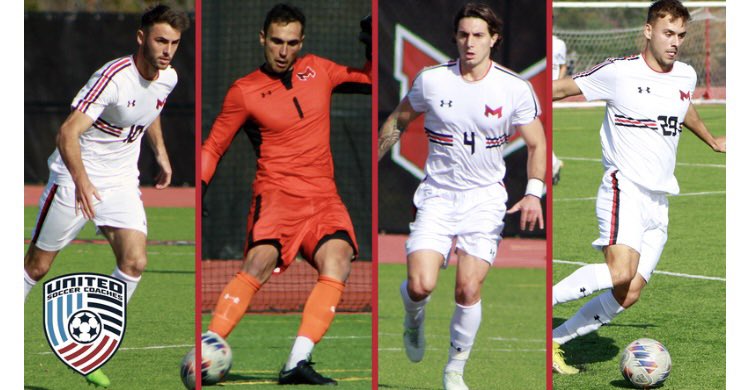 Willem Ficek, Goalkeeper, Eture Sports (Year Abroad Program)
After graduating from Marist HS in 2022, Ficek is taking a gap year in Spain as part of the ETURE Program. He has been playing with a Spanish team (Athletic Vallbonense) and training with Torrent CF, who play in the 5th Division. He hopes to make a college decision by the end of February.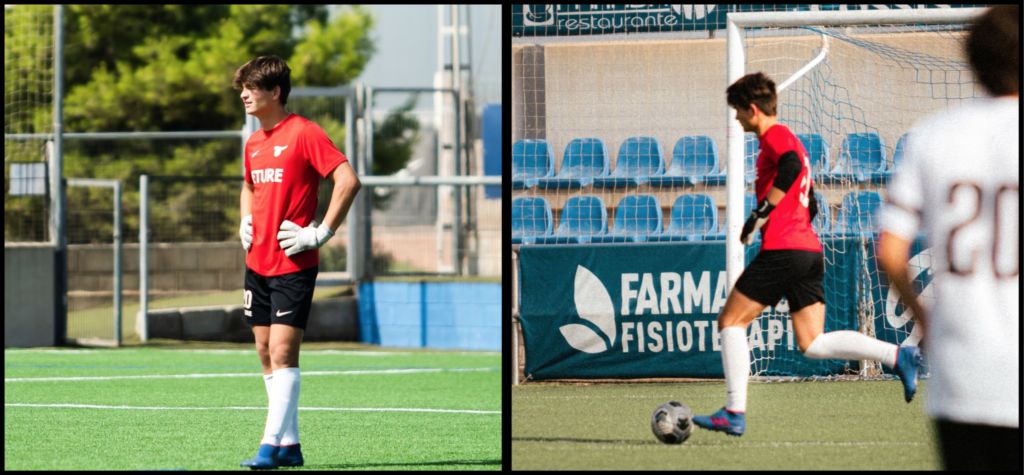 Hayden Galas, Defender, South Eugene HS
The younger Galas brother enjoyed a successful Junior season at South Eugene HS. He was voted 2nd Team All-League, tallying one goal and eight assists from his right back position, helping lead the team to the 6A state quarterfinals.
José Carlos González, Forward, Longwood University
The Spanish striker, who led LUFC in scoring the past two years, transferred to Longwood University in Virginia from Central Arkansas and scored 4 goals in 14 games (9 starts) for the Lancers, leading them in goals scored, shots on goal, and total points.
Scott Gustafson, Defender, Brown University
After transferring to Brown University from the University of Washington, Gustafson made himself a stalwart in the team's midfield, playing in all 17 matches with 14 starts. He racked up over 1,000 minutes and notched an assist in the Bears' 5-0 win over Hartford.
Michael Hatcher, Defender, University of Portland
The tall, speedy center back, who has been a fixture in the Lane United defense the past two years, played in 13 games for Portland off the bench this fall. He scored his first collegiate goal in a 5-0 win vs Cal Poly and helped the Pilots reach the NCAA Elite Eight, seeing playing time in victories in the first three rounds of the tournament.
Tetsuzo Hokari, Midfielder, Adams State University
"Tet" wrapped up his freshman season at Adams State having played in 16 games with 10 starts. His 1065 minutes played were good for 6th on the team.
Duncan McGuire, Forward, Creighton University
McGuire enjoyed a true breakout season this past fall, as he led the entire nation in scoring with 23 goals – a Creighton single-season record. He added 3 assists for good measure. Duncan took the team on a phenomenal run down the stretch, winning the Big East title and leading the Blue Jays all the way to the College Cup, where they fell late to eventual national champions Syracuse.
Along the way, the striker couldn't stop winning awards, including:
United Soccer Coaches National Player of the Week (8/31/22)
College Soccer News Player of the Week (11/13/22)
All-Big East First Team
All-East Region First Team
Big East Offensive Player of the Year
Big East Tournament Most Outstanding Offensive Player
All-American Second Team
MAC Hermann finalist (winner announced on January 6, 2023)
For the cherry on top, on December 21 Duncan was selected in the first round, 6th overall, in the MLS SuperDraft by Orlando City SC.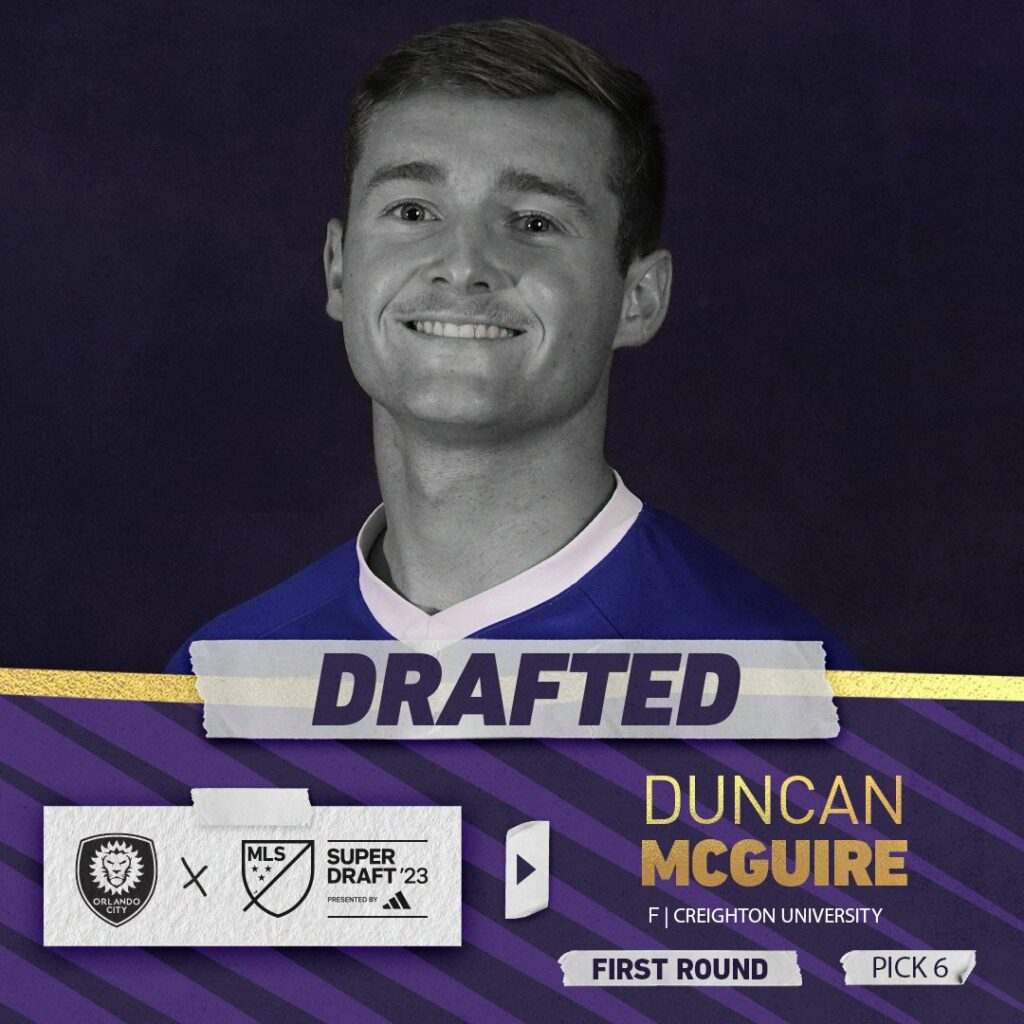 Edoardo Merci, Midfielder, Central Arkansas University
The Italian midfielder, who featured prominently for Lane United FC in both 2021 and 2022, had the misfortune of breaking his foot just 13 minutes into the collegiate season. He was in the starting lineup for the Bears but fell victim to a rash challenge from a Portland Pilot defender and was forced to miss the rest of the season. He ended up redshirting, and is considering a transfer to a school where he can continue to play while earning a Master's Degree.
Ed Port, Forward, Jacksonville University
The English winger transferred to Jacksonville University from the University of Nebraska-Omaha and saw action in 14 games, 9 of which came as starts. The graduate student tallied 3 goals and 3 assists; the goals and points (9) were good enough to earn a share atop the team statistical charts. His 26 shots were second on the team, while his 13 shots on goal shared the team lead.
Emiliano Rojo, Midfielder, Willamette HS
Rojo wrapped up his Junior season at Willamette HS with 7 goals and 5 assists from his holding midfield position, earning himself a spot on the All-League First Team. He was one of the team captains and led the Wolverines to the state playoffs for only the second time in the school's history.
Jaume Rubio, Midfielder, Cleveland State University
The Junior from Spain, who had transferred from Presbyterian College, played in 17 games for the Viking with 11 starts. Rubio helped Cleveland State win the Horizon League championship with a 3-0 win over IUPUI, earning them a berth in the NCAA Tournament, where they fell to eventual runners-up Pitt in the first round.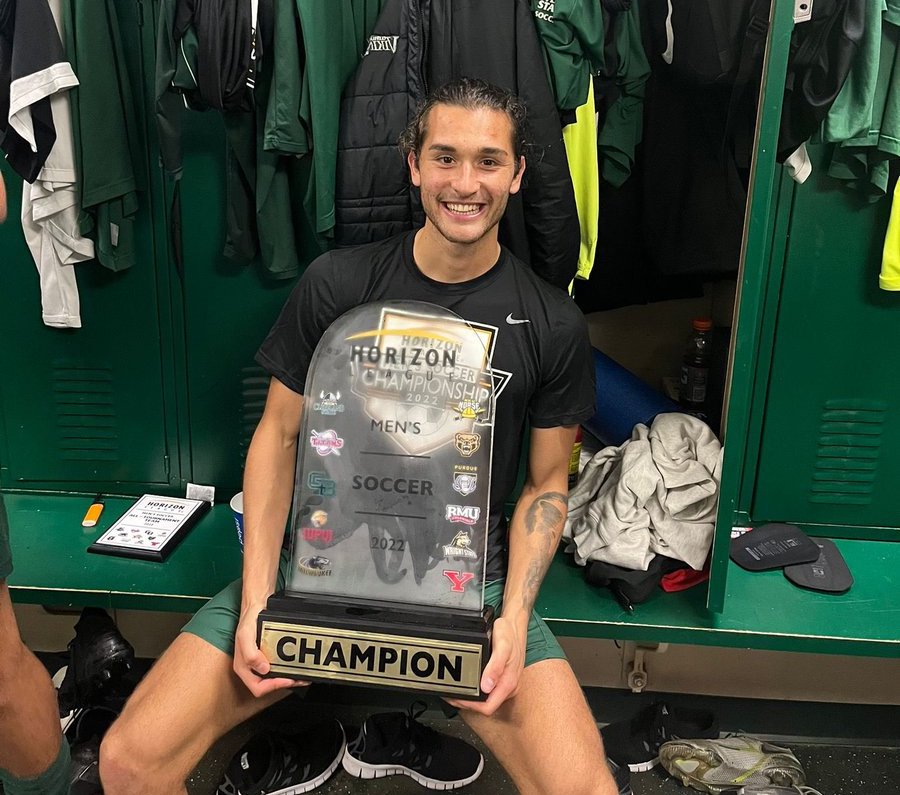 Landon Sloan, Midfielder, Creighton University
Sloan made 9 appearances for Creighton this fall including one start. The defensive midfielder totaled 166 minutes and saw the field in the Big East title match as well as the squad's 3-0 victory over Duke in the NCAA Quarterfinals.
Joao Soares da Costa, Midfielder, Monroe College
The Portuguese midfielder, who earned a USL2 Goal of the Week nomination this past summer for his stunning volley versus PDX FC, featured in two matches for Monroe College and notched one assist prior to injuring his knee. Costa decided to take a redshirt year and will be looking to transfer to a DI school ahead of the 2023 season. Monroe, for their part, ended up winning the NJCAA DI men's championship.
Caleb Tammi, Forward, Christian Brothers University
Tammi started out the year strong with a goal and an assist in his first three games before a hamstring injury (the same one he'd dealt with at LUFC over the summer) resurfaced and kept him out for over a month. He returned in mid-October and started the team's final four matches, including all three GSC Tournament games, in helping the squad to the league title and a spot in the DII NCAA Tournament. He was named to the GSC All-Tournament Team for his contributions. Tammi finishes his career at CBU with 10 goals and 5 assists.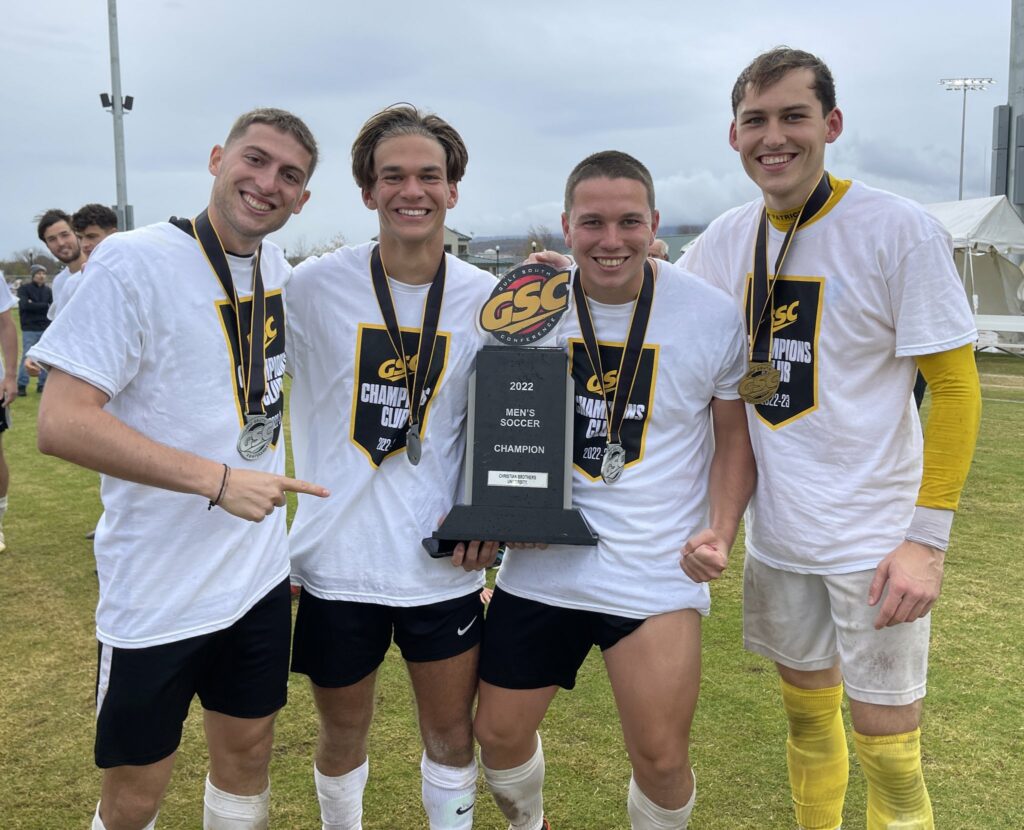 Robin Terry, Defender, Corban University
The standout right back started all 19 games in which he played for Corban University this fall, tallying 3 goals and 2 assists, while helping anchor a back line that only conceded nine times all year. Corban went 16-3-2 and made the semifinals of the Cascade Collegiate Conference Tournament and earned an at-large berth to the NAIA National Tournament, falling in PKS (5-4, though Robin took and made the 2nd attempt). Robin earned 1st Team All CCC honors for his season, wrapping up his outstanding career with 83 games played, 80 starts, 6 goals and 6 assists.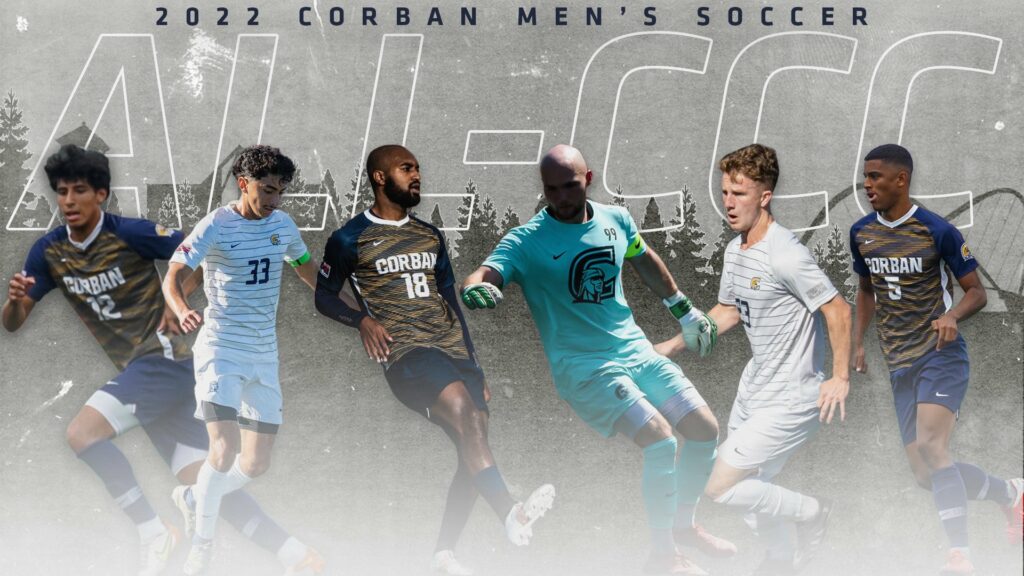 Grady Thurman, Midfielder, Northwest Nazarene University
The local lad from Creswell played in Northwest Nazarene's first three games, two of which were wins, before a torn meniscus ended his season. He had surgery in November and reports that everything went well and that he is on the mend! NNU would go on to win the Great Northwest Athletic Conference for the first time in program history and make it to the Division II Elite Eight.
Brian Torre, Defender, Christian Brothers University
The Italian left back started all 19 games in which he played for Christian Brothers, leading the team with 4 assists. He helped lead CBU to the Gulf South Conference Championship and a berth in the NCAA DII Tournament, earning 2nd Team All Region as well as a USCAA Academic All-American.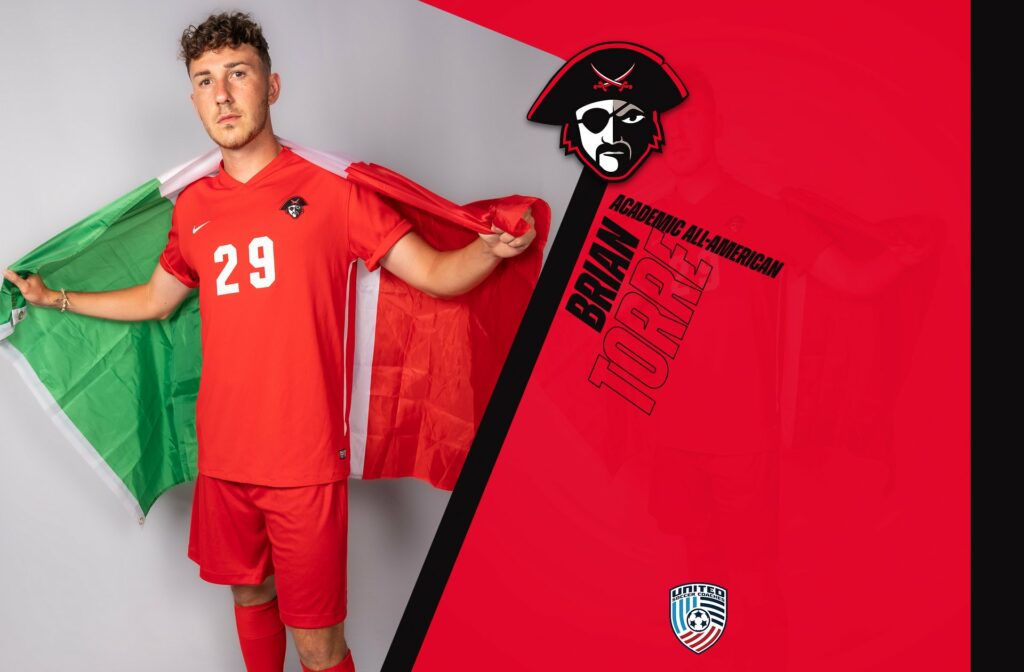 Luke Waters, Defender, Creighton University
Waters played in 11 matches for Creighton, including his first career start in a 3-0 win over DePaul. The defender totaled 190 minutes while tallying an assist in the team's 6-0 thrashing of Seton Hall in the Big East semifinal. He also featured in the title-winning match over Georgetown and contributed to the Blue Jays' NCAA tournament win over Tulsa with 22 minutes off the bench.
Fabien Wetl, Defender, Maryville University
After missing most of the USL2 season due to injury, Wetl got healthy in time for his collegiate season and helped lead Maryville to the GLVC championship and into the NCAA DII Quarterfinals. The outside back appeared in 20 games with 18 starts, helping the Saints to 12 shutouts. His 1605 minutes played were good for third on the team, while his lone assist came in a conference semifinal victory.
Others
We would be remiss not to mention Jordan Jackmon, Modou Sowe, and Caleb Galas. Jackmon anad Sowe, who were both significant contributors to the team last season, continue to live and work here in Eugene and plan on being a part of the squad next season. Galas, for his part, and following his appearance vs PDX FC, "retired" from soccer and is currently enjoying his freshman year at the University of Oregon!