At halftime, it looked like LUFC might be on their way to another defeat at the hands of CFC Atletico (formerly known as Timbers U23).
Like the 2-1 loss at home to CFC on May 27th, the Reds made things difficult on themselves early, but unlike that day, LUFC was able to re-group strongly in the wet conditions. In the end, Lane United left Salem with a 1-1 tie and a point after a feisty, scrappy, and hard-fought 90-plus minutes of soccer in front of a small, rain-soaked crowd at John Chambers Field.
CFC wasted no time getting on the board. Marco Afonso sent a lofted ball from just in front of midfield to Jeremy Opong on the left side, and the winger crossed the ball to a cutting Gabriel Silva in front of the net for the striker to first-time into the back of the net. Just six minutes into the game, CFC led 1-0.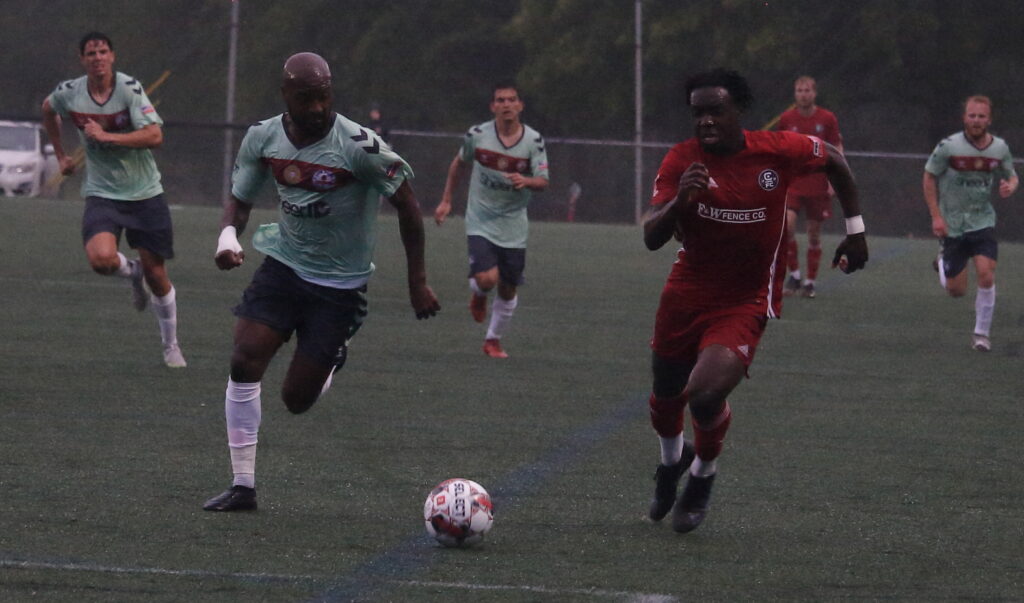 CFC had a couple of chances to tack onto their early lead in the first half, but they were unable to cash in. Silva had a chance to score a second goal in the 24th minute after a Reds turnover, but his low shot was tipped wide by a diving Albert Escuin. In the 39th minute, Afonso sent a free kick right into the hands of Escuin.
Meanwhile, LUFC's offense couldn't get anything going. Possession after possession, the wet conditions stifled their attack and destroyed any kind of momentum they could've built as they failed to record a shot in the first half.
"In these conditions, you need to manufacture chances," Head Coach John Galas said. "We have to get corners, we have to get shots, we have to try and manufacture."
Despite not having the best first half, LUFC entered the break still just down a goal.
"We had to compete, we had to win first and second balls and try to get into some sort of possession to get the ball forward," Galas said referring to the second-half mindset. "They played us off the park in the first half, and we responded and played them off the park in the second half."
Sure enough, the Reds came out like a different team after the break. The intensity and emotions of the game flared with two LUFC yellow cards in the first eight minutes, but it was clear that the competitiveness and spirit of the team ramped up.
Duncan McGuire had a chance to knot the game in the 57th minute when he found himself behind the defense off a perfect through-ball from Chilean midfielder Diego Dutilh. CFC's goalie met McGuire in front of the box, however, and created an awkward angle for McGuire, who missed it inches wide of the left post.
In the 66th minute, LUFC's first corner of the game ended with Hatcher heading the ball wide left of the goal.
The Reds finally found the back of the net in the 70th minute. Joao Costa's corner kick was flicked on by defender Brian Torre and found McGuire at the back post, and the striker chested and volleyed a left-footed smash into the top corner to equalize.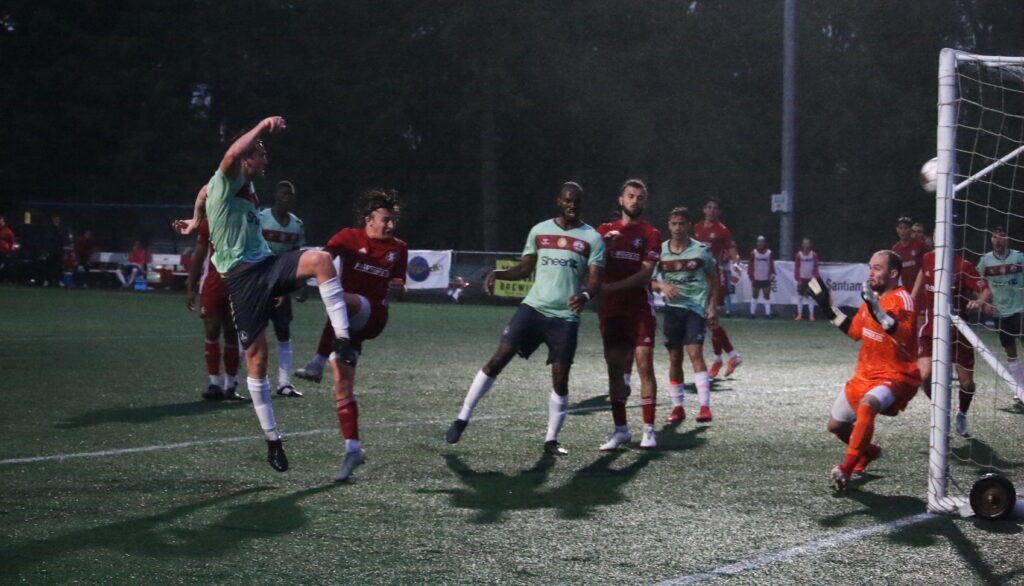 "We had nothing to lose," said Modou Sowe, Friday's Man of the Match-Winner. "We went out there and gave it our all."
Sowe was monumental in the second-half defensive turnaround. He won countless tackles against CFC forwards and midfielders, and stepped up to the plate in one v. one battles. His partner at center back, Michael Hatcher, also won myriad tackles and headers, playing a big role in slowing down CFC.
"When I'm out there I'm like a lion," Sowe highlighted. "I don't want anyone to take my space. I want to eat you first before you eat me. That's the mentality."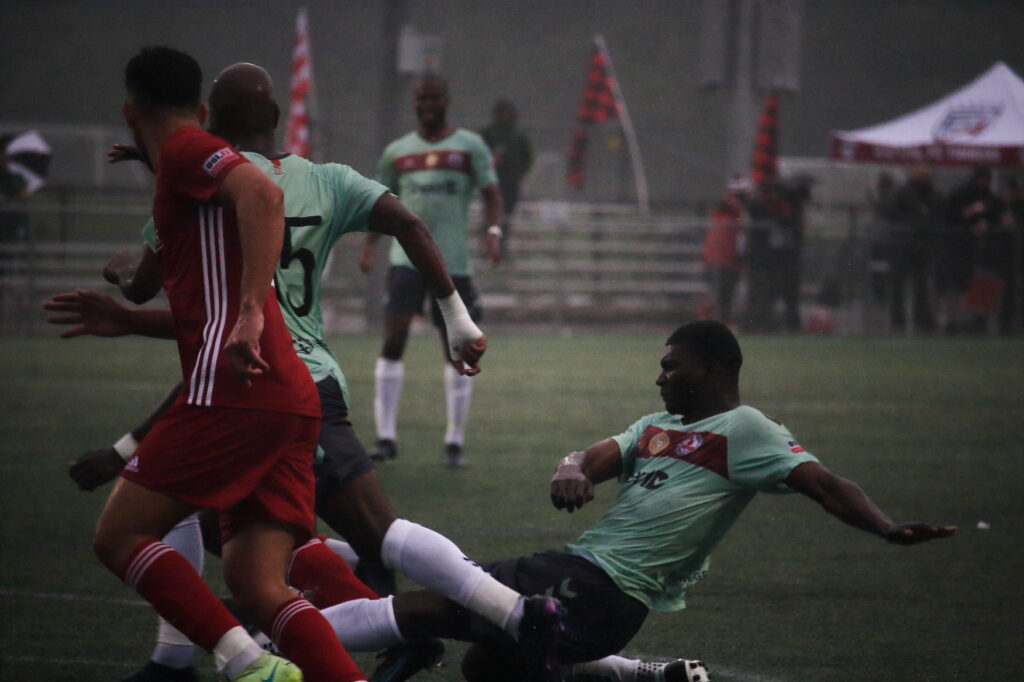 The game remained knotted in spite of a late meltdown for CFC. After Afonso left the game with an injury, CFC played the last six minutes of the game down a player when Marios Andreou was red-carded for shoving Jordan Jackmon down after Jackmon stole the ball.
The Reds couldn't capitalize on the advantage, however, as the two teams remained knotted after 90-plus minutes of play.
With the point, the Reds now move into sole possession of fourth place in the USL2 Northwest Division standings, one point ahead of OVF Alliance. They'll now regroup ahead of their next match next Friday, June 17th, against Ballard FC. Kick-off is set for 7 p.m at Civic Park and tickets can be found here.
Match Timeline
6' GOAL (CFC) – Silva scores off an Afonso cross.
24' SAVE (LUFC) – Escuin makes a diving save on a Silva shot after a Reds' turnover.
32' YELLOW CARD (CFC) – Nathan Masters is booked for a hard foul.
49' SAVE (LUFC) – Escuin again gets low to deflect CJ Tibbling's shot wide of the mark.
51' YELLOW CARD (LUFC) – Landon Sloan is penalized for a push.
53' YELLOW CARD (LUFC) – Brian Torre is cited for tripping a CFC midfielder.
57' CHANCE (LUFC) – McGuire's shot misses inches wide to the left after a through ball from Dutilh.
66' CHANCE (LUFC) – Hatcher's header goes wide left from an Edoardo Merci corner.
70' GOAL (LUFC) – McGuire chests and volleys a goal in one motion from Costa's corner and Torre's flick.
78' SAVE (CFC) – Jose Carlos Gonzalez's free kick slips through CFC's defense, but it is smothered by the goalkeeper.
78' YELLOW CARD (LUFC) – Costa runs into a CFC defender causing him to fall.
90' RED CARD (CFC) – Andreou is punished for pushing Jackmon to the ground after Jackmon steals the ball.
91' YELLOW CARD (LUFC) – Jackmon is shown yellow for his involvement in the skirmish.