Lane United FC is excited to partner with local non-profit FOOD For Lane County on a food drive at their upcoming match this Thursday, June 30th, at 7p.
FOOD For Lane County is a food bank dedicated to reducing hunger by engaging the local community to create local access to food. To that end, Lane United is hosting a food drive at the club's USL League Two match against OVF Alliance on Thursday evening at Civic Park.
All fans who bring at least one item for the food drive will be entered into a halftime raffle to win a variety of prizes from tickets to the team's final home game of the season to club merchandise! A collection container will be located at the entry gate, where food donors can collect their raffle ticket.
Fans are asked to bring foods with a long shelf life. See below for FOOD For Lane County's list of recommended items: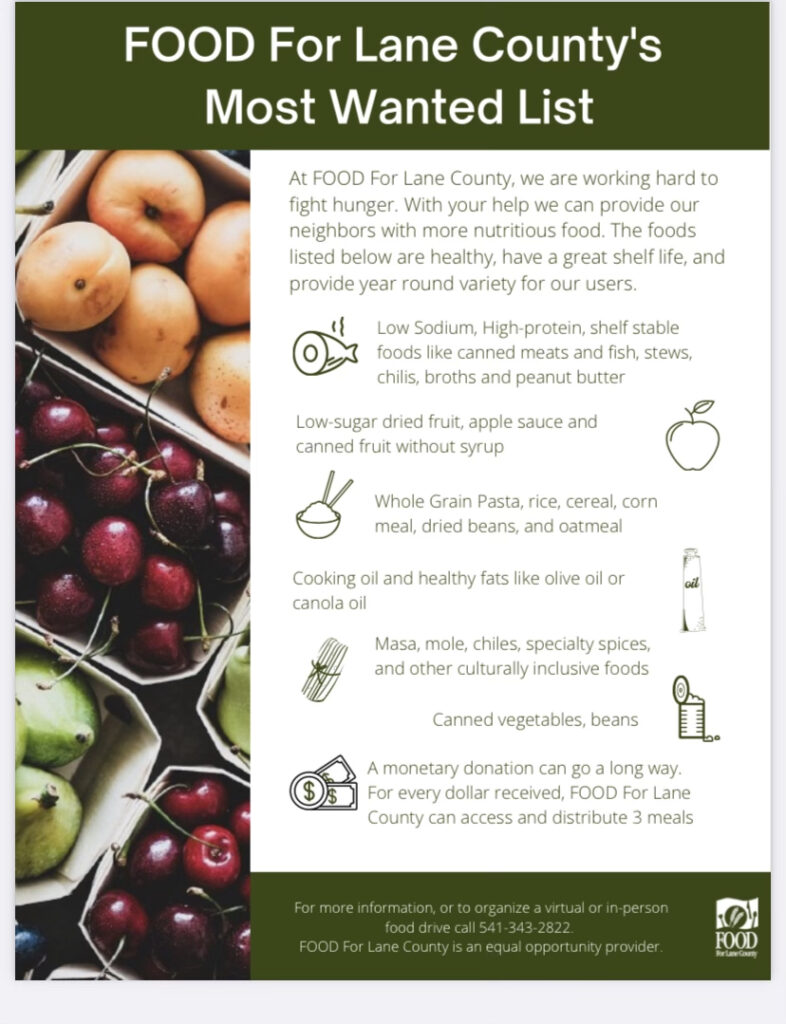 We hope you'll join us at the match on Thursday and do your small part to help end hunger in Lane County! Tickets for the game can be purchased here.
---
FOOD For Lane County is a 501(c)(3) nonprofit food bank dedicated to reducing hunger by engaging our community to create access to food. We accomplish this by soliciting, collecting, rescuing, growing, preparing and packaging food for distribution through a network of more than 150 partner agencies and distribution sites; through public awareness, education and community advocacy; and through programs designed to improve the ability of low-income individuals to maintain an adequate supply of wholesome, nutritious food. We serve a diverse population of people living on limited incomes, including children, families, seniors and single adults. FOOD for Lane County is a member of the Oregon Food Bank Statewide Network, partners with United Way of Lane County and is a distribution partner of Feeding America.