In a highly anticipated match-up between two teams in need of points, Lane United FC traveled to face off against PDX FC in an intense battle that ended with the two teams sharing the spoils as the home side tallied a late equalizer. 
The match, held at Sam Barlow High School just outside of Portland, kicked off at 5pm under clear skies and hot weather conditions.
The first half proved to be a choppy affair, with both teams eager to assert their dominance. The referee was quick with both his whistle and his cards, handing out five in the first half as both teams struggled to find their rhythm early on. Despite the physicality on display and several half-chances for each side, the scoreboard remained untouched, leaving the fans hungry for goals.
As the game progressed into the second half, it was Lane United FC who drew first blood in the 71st minute. The breakthrough came courtesy of a rocket from midfielder Ethan Doud from outside the box. Spaniard Hugo Rodriguez played a pivotal role in the goal, providing a perfectly weighted assist. Doud's ensuing strike left the PDX goalkeeper with no chance.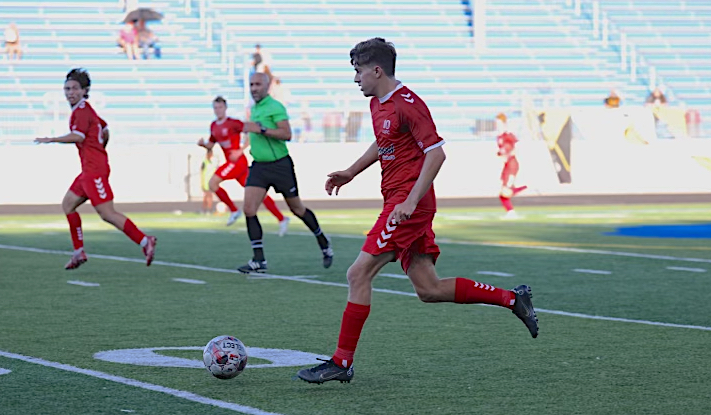 With a 1-0 lead, Lane United FC appeared to be in control, but PDX refused to back down. Determined to salvage a point from the match, the home team intensified their offensive efforts. In the 88th minute, substitute Danny Saez came to PDX's rescue – just as he had in a matchup of these same teams in 2021 when he scored the lone goal in the final minute – capitalizing on a defensive lapse from Lane United FC to head the ball into the back of the net, leveling the score at 1-1.
The final few minutes of the match witnessed both teams desperately seeking a late winner. The intensity on the field was palpable as players from both sides fought tooth and nail for every inch of the pitch. LUFC had a chance in stoppage time after a beautiful build up down the right, but Owen Nelson's cutback was slid tackled away as Deryk Jones attempted to first time it from six yard out.
Lane United FC secured a hard-fought point against a determined PDX FC side. Their solid defensive organization and Doud's clinical finishing in the 71st minute gave them the lead, but in the end they had to ultimately settle for a draw.
(Main photo credit: Barbara Minkler)