On Saturday, April 30th, the City of Eugene Parks and Open Space Division, an association geared towards improving the quality and livability of local neighborhoods, coordinated a wetland restoration session at Westmoreland Park in Eugene and Lane United was on hand to help out.
Co-sponsored by Friendly Area Neighbors (FAN) Equity Action Team and Beyond Toxics, volunteers and LUFC members were tasked with reinstating areas of the wetlands that have been sheltered by ground-cloth for five months by hand and with tools. These same plants, trees, and herbs used to cover hundreds of acres in the Willamette Valley.
"It was very educational learning about the wetlands and flowers," said Modou Sowe, a center back for LUFC. "I enjoyed meeting people from different work backgrounds, all striving for a common goal. Overall, it was a great experience."
Alongside Sowe, two additional players and two LUFC personnel members were also in attendance for the restoration.
"Playing our home games at Civic Park, we're so happy to be part of the South Eugene community," said Perry Hammond, the General Manager of LUFC. "They give us so much as a club and it's important for us to give back and do our part. I'm grateful for our relationship with Friendly Area Neighbors, who shared this opportunity with us."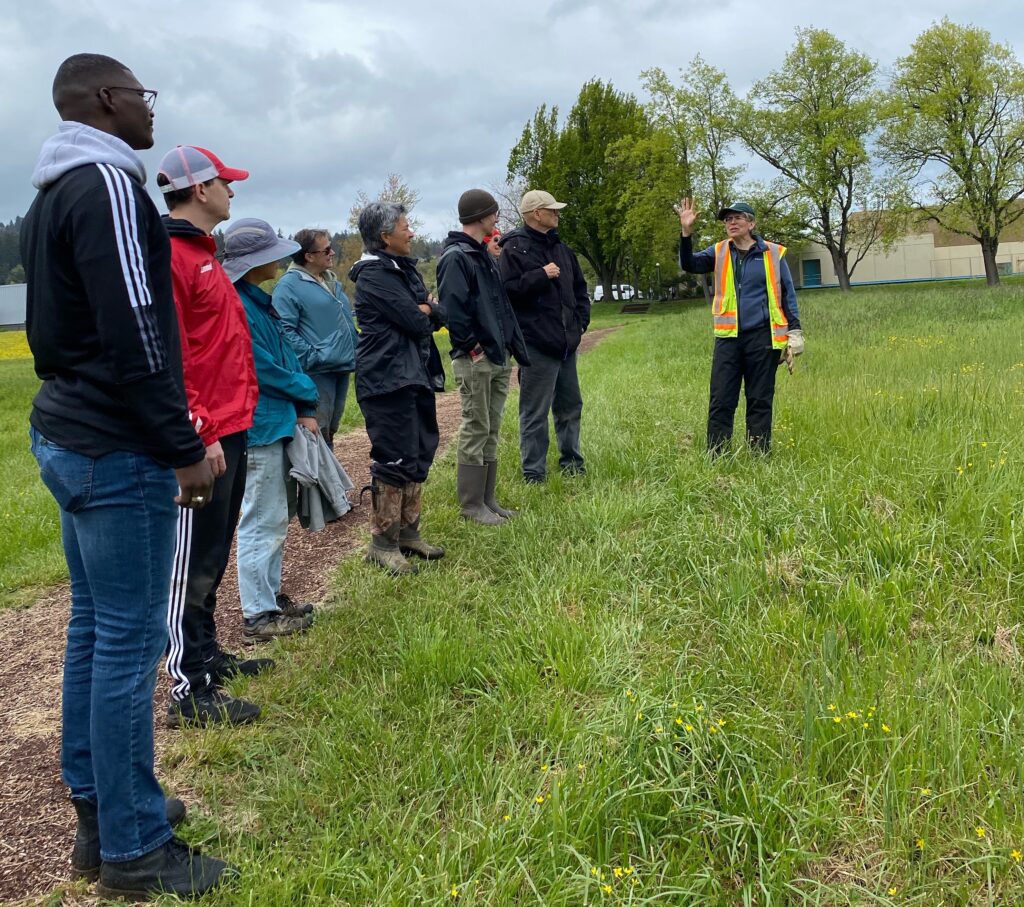 Besides LUFC personnel, many FAN neighbors and a University of Oregon Environmental Studies Intern were on the scene and trained as "citizen scientists." Along with refurbishing the native plants, these individuals also spent their time removing non-native plants. Foxtails, for example, flower early in the season and compete with natal plants like camas and buttercups. These non-native plants met their match on Saturday.
"It allows the population of native species to thrive," said Diane Steeck, an ecologist with the City of Eugene Parks and Open Space. "It reduces the competition by taking out some of these patches when they're small so that you're reducing the likelihood that they will take over large areas and diminish the native species that occur here."
At the end of the two-hour allotted work period, volunteers were gifted with a guided tour of the plants. The data collected from Saturday will be used to resolve the proceeding steps of the restoration. If you're interested in lending a hand to future local projects, please visit friendlyareaneighbors.com.